Ulseth Machining & MFG., Inc.
Ulseth Machining & Mfg., is a general machine shop located in the Bradford Industrial Park, Bradford, Tennessee. Incorporated in 1983, we have provided short and long run production of parts, custom and prototype machined parts. Ulseth has provided these parts to companies all over the United States and into Canada, Mexico and Europe. Specializing in turning and milling, we have produced machined parts to customers specifications in many diverse sectors. These would include but are not limited to: appliance, logging, transportation & recreational, lawn & garden and food industries.
When do you need it? We offer just in time delivery and when arranged we will even inventory your items.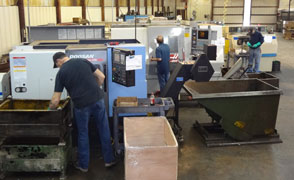 Ulseth Machining & Mfg., Inc., welcomes the opportunity to quote your machining needs and build a long term relationship as a supplier of your machined parts.